"Santa" – Sofia Talviks årliga julsingel

Den 80-talsdoftande julsingeln "Santa" är den femte i raden för Sofia Talvik. Varje år släpper Sofia en gratis julsingel som en julklapp till sina fans, men eftersom julen också är en tid för eftertanke brukar hennes julsinglar också komma med en uppmaning att stödja en välgörenhets-organisation.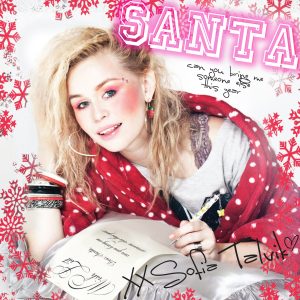 Den 1:a december släpps Sofia Talviks julsingel till förmån för The Body Shop och ECPATs världsomspännande kampanj "Stop Sex Trafficking", en kampanj mot trafficking av barn och unga. Singeln kommer att finnas för gratis nedladdning via Sofias hemsida på http://sofiatalvik.com
"Som artist och människa har jag alltid tyckt att det är viktigt att engagera sig i frågor som kan hjälpa vår värld att bli en bättre plats. The Body Shop och ECPATs kampanj mot trafficking av barn och unga tar upp en fråga som verkligen bör belysas och jag hoppas att fler kan lägga sin röst till att förändra vår värld och stoppa trafficking av barn och unga", säger Sofia om kampanjen.
Trafficking räknas till världens just nu tredje största och snabbast växande kriminella industri, näst efter handeln med droger och vapen. Idag beräknas 1,2 miljoner barn vara utsatta för trafficking, däribland för sexuella ändamål.
—
Every year I release a free single as a Christmas gift for my fans, but since Christmas also is a time for reflection I also urge my fans to support a good cause or a charity organization.This year's single "Santa" is given away to benefit The Body Shop and ECPAT's world-wide campaign "Stop Sex Trafficking", a campaign to bringing awareness of this modern-day slave trade that takes place around us, trafficking of children and young people.
released 01 December 2010
Written by Sofia Talvik.
Produced by Joakim Lundgren.
Vocals Sofia Talvik and Joakim Lundgren
All instruments by Joakim Lundgren except guitar Marcus Högquist.
Photos by Camilla Svensk.
Artwork by Sofia Talvik.